Main content starts here, tab to start navigating
Collaborations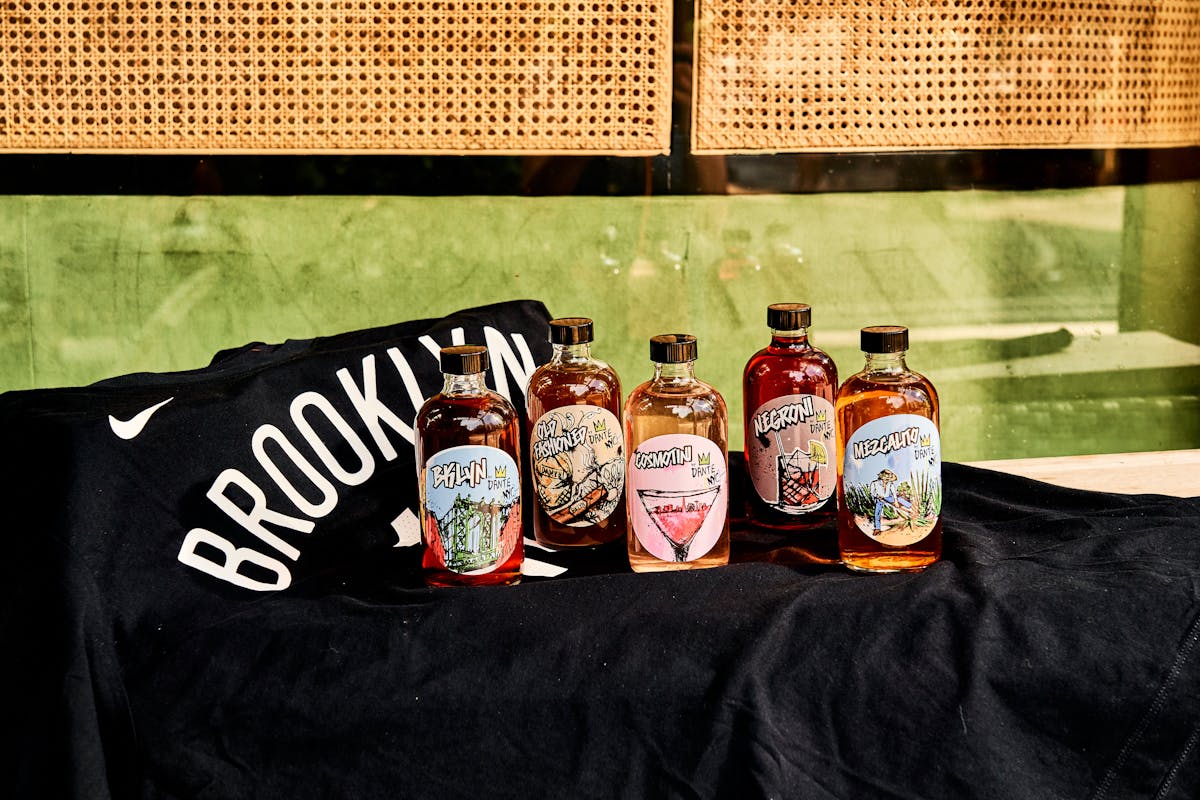 Dante x Brooklyn Nets
Back for our second season, Dante has partnered with Barclays Center and the Brooklyn Nets to serve its award-winning cocktails throughout the arena's suite level, as well as in the Qatar Airways Club.
This partnership is part of a slew of new VIP food and beverage offerings that have debuted at Barclays Center, celebrating the best of NYC. Fans can now enjoy six of Dante's beloved signature cocktails in bottled and tap form in the arena's Qatar Airways Club, accessible exclusively to courtside ticket holders. Several of the cocktails come in individual, 4oz bottles, featuring reimagined artwork of Dante's popular labels in a graffiti style - a nod to the Nets' Brooklyn identity. Each label was designed as a special tribute to Brooklyn, the County of Kings.
Dante x NY Islanders
Expanding its presence in New York's top arenas, Dante has partnered with the brand-new UBS Arena, home to the NY Islanders located in Elmont, New York.
UBS Arena aims to offer the highest-end amenities and customer service, through elevated suites and clubs featuring timeless design inspired by classic, well known New York establishments.
Three of Dante's cocktails - Paloma Fresca, Rum Punch and Dante Mule - are available on tap in the Bacardi Bar. An Additional three cocktails - Dante's Negroni, Strawberry Cosmo and Espresso Swizzle - are available in large-format bottles, exclusively in the VIP suites.
DANTE'S NEGRONI BAR
Dante's Negroni Bar was a seasonal activation featuring an entire bar dedicated to one of our favorite cocktails: the Negroni. Located in the NYC's Seaport on Pier 17, Dante's Negroni Bar overlooked incredible views of the East River and Brooklyn Bridge and was complement by daily live music programming.
Dante Aspen
For the past two winter seasons, Dante has partnered with the Snow Lodge in Aspen, CO, serving seasonal food and cocktails to complement the venue's regarded lifestyle and music programming. In 2021, Dante's residency in the mountains extended through the summer with a pop-up at the renowned Chef's Club at the St. Regis Resort.